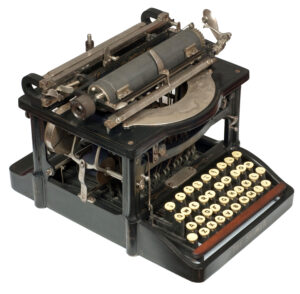 'The Shimer Typewriter' – An illustrated article
The Shimer's were a prominent business family in Milton Pennsylvania during the second half of the 19th century and into the 20th century. Samuel Shimer was the senior member of Samuel J. Shimer & Sons, who made their fortune owning large tracts of heavily timbered land, which they cut and turned into lumber at their saw mill. They operated a small machine shop connected to the saw mill that made cutter heads for wood moulding. When the saw mill burned down in 1880, the rebuilt and much larger machine shop made cutter heads and other specialty tools for the lumber industry.  They were no longer harvesting and making lumber. The Shimer cutter heads were the best on the market and were sold throughout the US and globally.
With plenty of capital, a machine shop and inventive minds, Samuel Shimer and his son Elmer put forth the considerable effort required to create a typewriter during the 1890s. The Shimer typewriter received its first patent in 1891 and appeared on the market in 1899.
Being an under-strike typewriter and of the same size as the early Remington typewriters, it is often referred to as having "more than a passing similarity to early Remingtons", however the  implication that it is essentially the same typewriter is incorrect. Granted it does have the same general look but with its own uniquely designed components, it is a unique machine.
The early Shimer typewriters, such as this one, have the added distinction of a type bar basket shift for uppercase characters, along with white keys. In fact no two Shimers are quite the same. There are differences in the frame design and later Shimers used a carriage shift, as seen on the early Remingtons. All these differences, indicate that the Shimer typewriter never reached the status of a full production machine.
The Shimer general catalogue from 1900, shown below, handsomely presents a cutter head on the cover and a two page advertisement for the typewriter. This is the only known advertisement for the Shimer typewriter. One can also see a beautiful illustration of the Shimer factory on the back of this catalogue. The loose price sheet, placed in the catalogue, gives prices for many items but the last price given is for the 'Type Writer at $75.00'.
"SAVE TIME & SAVE MATERIAL – SAVE MONEY."