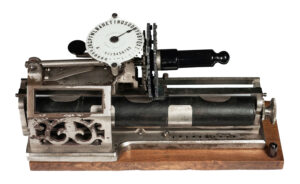 'Charles Spiro: Reaching Back in Time' – An illustrated article
The Columbia 1 typewriter is a beautiful little machine that was the first manufactured typewriter by the legendary typewriter pioneer Charles Spiro, a New York watchmaker, mechanical inventor and lawyer who went on to create other superb typewriters including the Bar-Lock (seen in this collection).
The photo shown below, taken in the early 1930s, shows Charles Spiro in his early 80s with his granddaughter Vivian on his lap.
The Columbia 1 was, along with the Crandall 1 and the Automatic, one of the first  typewriters to give proportional spacing, with the carriage moving varying amounts according to the different character widths. The Columbia was the second typewriter (after the Crandall 1883) to give visible typing, allowing one to see what they had just typed by looking down through the open window just above the ornate grille.
The Columbia 1 first appeared very briefly with a single type wheel (capitals only) and then appeared, also very briefly, with two type wheels as seen in this example, with one type wheel giving uppercase and the other lowercase characters. To change case, the black handle moves laterally to engage one type wheel or the other. To operate, the black handle rotates the pointer on the dial to select a character and then the handle  is pushed down to print.
It is important to note that the point of printing is not actually on the large black wooden roller, as one would imagine, but it is at the top of a small metal anvil that rises up from the base at the rear of the typewriter. To cushion the impact of the metal type wheel coming down onto the top of the metal anvil, a leather strip is stretched across the top of the roller and comes between the top of the anvil and the underside of the paper. So the Columbia 1 is in fact, a very different typewriter to the Columbia 2. Not only is it a smaller machine but it types in a different way. Essentially it types in the same manner as the Lambert typewriter, including the loading of the paper onto the roller before typing. Both the anvil and the leather strip can be seen in the third photo below.
It is notable to mention that Mr. Spiro, at age 16, in his father's watch shop invented the stem setter and winder for watches. Before this invention, watches had separate keys that were inserted into the front or back of the watch for this purpose. Mr. Spiro built the key right into the watch and for so doing received the large sum of $4,000 for the patent.
This typewriter originally sold for $30.
"It is to the Pen, what the Sewing Machine is to the Needle."

"The most simple, durable and portable and cheapest first-class Machine in the Market. Variable spacing, perfect alignment, and no ribbons."