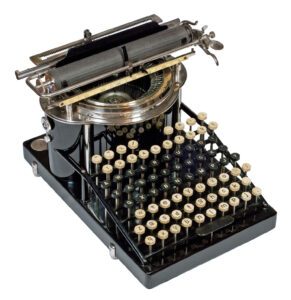 The Yost typewriter was the invention of George Washington Newton Yost, one of the key pioneers in the emergence of the first manufactured typewriters. He was a major player in the promotion of the  Sholes and Glidden (1874) for E. Remington & Sons.
His next project was to create the American Typing Machine Co. which produced the Caligraph typewriters along with others. After considerable success he left to create a typewriter in his own name. This line from an 1890 display ad clearly states the two principles that Yost felt were most important to incorporate into the design of his typing machine, "No ribbon, direct printing, permanent alignment."  The inking was achieved by a circular felt pad positioned around the top of the tower where the type bars rest. Permanent alignment was accomplished with the articulated type bars traveling forwards with a half-flip upwards motion to bring the end of the type bar into a guide just under the platen, insuring that the typed characters strike the platen in exactly the same place every time.
One can see the Yost office in Paris in the 1906 postcard shown below.
"If you would understand its rapid march into popularity, and why it is head and shoulders above the patched up models of other style machines, send for our handsome illustrated catalogue."