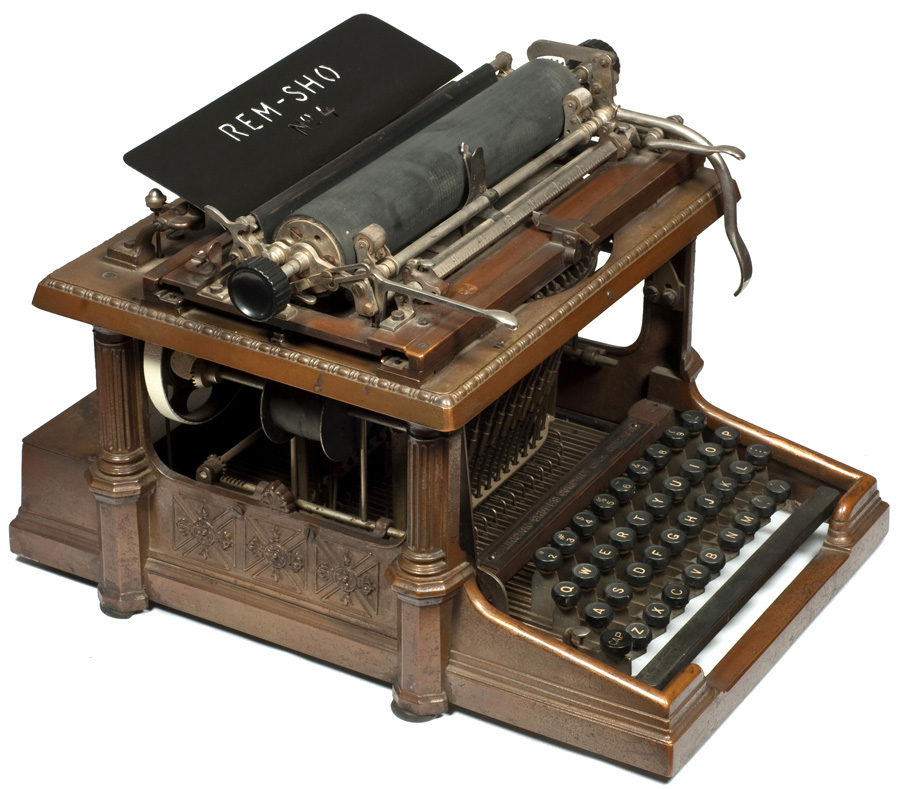 The Rem-Sho typewriter typewriter has an impressive neoclassical design, styled somewhat in the form of a Greek temple, with a bronzed cast iron frame.
The Rem-Sho was the first typewriter to have the whole type-basket (type-bars) move for a character shift instead of shifting the platen, making shifting much lighter. This was the forerunner of what would be the standard method to shift characters on 20th century typewriters.
The name Rem-Sho reflects the names of the two inventors of this typewriter. Franklin Remington was a grandson of Eliphalet Remington, the founder of E. Remington and Sons who manufactured the Sholes and Glidden typewriter (Remington 1) in 1874, the first commercially successful typewriter. Zalmon Sholes was the son of Christopher Lathen Sholes, the inventor of the Sholes and Glidden typewriter.
In 1901 the Rem-Sho was renamed Fay-Sho (Charles Fay was the firm's President) due to legal action taken by the Remington Typewriter Company, which was no longer part of the Remington family, to stop its name being used by a competitor. The first advertisement below, shows the result of this action.
Here is a an account of the Rem-Sho typewriter from a period pamphlet.
The Rem-Sho typewriter originally sold for $97.50.
"The Remington-Sholes is manufactured by the sons of the original inventor of the first Typewriter ever made. The simple and durable features promulgated by the fathers of these men are apparent in this latest production of their genius; at the same time the latest devices for convenience and speed have not been neglected."

"Do not be persuaded to buy anything that is nonstandard for the best is always the cheapest in the long run."