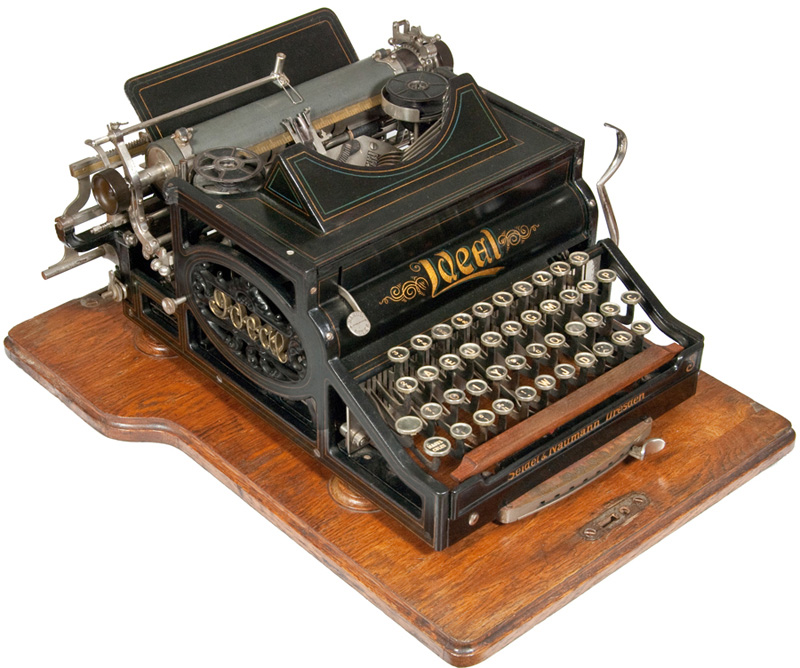 The American designers E.E. Barney and Frank Tanner patented their Ideal typewriter in 1897. Seidel & Naumann of Dresden, makers of bicycles and sewing machines, started to produce the Ideal typewriter in 1900. This Ideal has a Belgian keyboard.
The Ideal is distinctive with its beautiful ornate cast iron side panels and with this early example, a wonderful Art Nouveau decal splashed on the front panel.
There are some very special features about this typewriter.
It has the rare oblique front strike configuration for the type bars, where the type bars strike the platen at 10:30 not 9:00 o'clock.
The carriage return lever is positioned just behind the keyboard, not on the carriage, allowing for an easy action to move the carriage back and advance the line at the same time.
When the shift key is pushed, the type-basket and the carriage both move towards each other. Normally the carriage or the type-basket move but not both. This shared motion gives a smooth feel when pushing the shift key. This is the only typewriter to have this combined carriage shift action.
A tabulator was available for an extra charge and is present on this Ideal. The tabulator allows one to automatically move to the correct decimal position when typing numbers. This enables one to go to the next of four column positions, that are set on the back of the typewriter, and be in the correct decimal position for numbers up to seven digits. This means that when the tabulator lever is swung to and is pushed into the 10,000 position, the carriage will release and move to the next column stop. Then one can type a 5 digit number and when done, the number will be right hand justified with the other numbers in that column.  The tabulator is shown in the fourth detail image below.