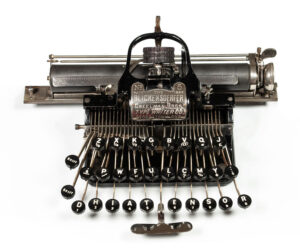 Compact, effective and affordable ($40), the Blickensderfer 5  became the first portable keyboard typewriter and went on to great success. It was nicknamed the five pound secretary.
The Blickensderfer has no type bars and instead uses a cylindrical type element (shown below). The type element is interchangeable, allowing for numerous font styles. A small felt roller attached to a spring-loaded arm, positioned under the type element, does the inking.
A staccato strike is required on the keys to have the complex mechanism transfer enough force to type properly.
This example, with its beautiful and prominent name plate, was sold by the Creelman Bros, of Georgetown, Ontario, Canada. They were one of the first shops to sell typewriters in Canada. The Creelman Brothers main product line though, were hand operated knitting machines. The Creelman Brothers letterhead (1895), last image below, features the Blickensderfer 5 and the curved keyboard Williams 1 in the upper corners. The content of the letter deals with their hand operated knitting machines. The Creelman Brothers sold other typewriters, including the Caligraph 2, Yost 1, and Underwood 1.
"The Blickensderfer Typewriter excels in all classes of work, and is the "one thing" desirable for gentlemen of literary or scientific pursuits."

"Educate your children to be self-supporting. In addition to any vocation you may intend them to follow. To know Typewriting is to earn a living."