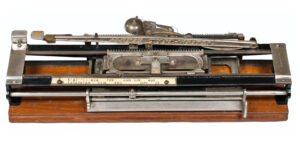 The Alexis typewriter is the result of a small town inventor with the desire to design and manufacture his own typewriter. James A. Wallace (1845 – 1906) was born in Alexis, Illinois (pop. 900) where he is now buried. He was a dynamic man with various occupations including bicycle repair, writer, and photographer (see his portrait below). He was also an avid musician.
The Alexis typewriter is a superb example of a unique typewriter from the 'Wild West' of typewriters during the 1880s & 1890s when all sorts of ingenious designs came forth. Some ideas were better than others though and there were many successes and failures.
At 16″ wide, the Alexis typewriter is quite imposing on its beautiful wooden base. The long lever for typing, with ALEXIS TYPEWRITER cast onto its surface, is most impressive and helps give the Alexis its distinctive look.
This typewriter uses a rubber membrane (1″ x 7″) that has the characters molded onto its surface in two rows, one for lowercase and one for uppercase characters. The membrane is held in the carriage (seen centre, top of typewriter, with a moving handle and a small pointer) that is moved back and forth to select the characters. To type, one selects the character with the pointer on the carriage and then the long lever is pushed down to imprint the characters onto the paper. The paper passes flat and straight underneath the carriage (see third image below).
Here is an abridged passage from a 1974 Alexis newspaper article which sheds some light on the Alexis Typewriter Company.
".. the Alexis correspondent told the Review on Aug.14, 1888, of the invention of a typewriter by Wallace. It was said that for simplicity, durability and cost, the type-writer was for all people. Mr. Moffat (publisher of the Monmouth Review-Altas) commented that he used one of them a bit, but he indicated it never became a very popular invention. The Alexis Manufacturing Company formed to make and sell the Alexis Typewriter, was incorporated in June 21st, 1890. Capital stock was $1,000. Soon after, it was said five men were being put to work in the manufacture of the machine. Although the St. Louis dealer, through which the Alexis company had bought the dies for the machine, said he could manufacture the machine much cheaper, it was decided to make the typewriter in Alexis. They would soon be on the market for $15 each."
The town of Alexis has not grown in population that much since the 19th century but what a wonderful legacy Wallace created when he decided to have his typewriter made in and named after his hometown.
The portrait of James A. Wallace (seen below) is from his great-granddaughter.